WT508H Twin Pump ELO&ETU 2-8 COLORS Off-set Shaft Heavy High Density Weaving Water Jet Loom
Product Detail
Product Tags
Weft Insertion Methodically At High Speed
The weft insertion angle is enlarged by improvement in the beating curve that ensure weft insertion stably for all kinds of chemical fiber materials,as the great improvement of unstable situation of shedding and warp yarn tension ensure weaving the differentiation fabric with high quality.
Stable Running
The robust frame structure,rigid let off and take up stabilize the loom running and the weaving range is increased from thin to middle-thick fabrics,and from low to high density fabric,even weave fabrics of complicated or unbalanced construction,vibration.
Crossing Stay
The front stay is rectangle, which width reach 200mm. The back top stay and both bottom stay are pentagon, which are strengthened for stable operation at high speed and high rigidity of beams is efficient to reduce resonance marks.
More Rigid
A transverse rail is employed to increase rigidity( for width more than 280cm loom, one extra or two extra is available)
New Design
Our new designed rocking shaft with small inertia moment is employed to attain well-balanced beating even at high speed.Comparing with other hollow rocking shaft, it reduce 25% of floor vibration.stable operation is possible at high speed.
1)Mechanical let-off and take-up;Electronic let-off and take-up.
2)RDP mechanical measuring&storage device,1-6 nozzle electronic weft selection freely.
Configurable shedding device:Niupai cam/Niupai dobby/jacquard
3)Reed width:135-450cm
4)The weft density range:4-100picks/cm(Identified according to actual weft yarn specifications and fabric weaving)
5)Max.speed:1000RPM(Identified according to actual weft yarn specifications and fabric weaving)
Heald frame :crank shedding 2-8pcs;cam shedding 2-14pcs;dobby shedding16pcs
Install power:2.8kw-5.4kw
Type
WT406
WT508
WT8200
Reed Space(CM)
135,150,170,190,210,230,260,280,300,320,340,350,360
Useful reed space(CM)
Norminal R/S minus 2cm to 50cm
Frame
Box frame type Driving section is in oil bath
Driving
Brake
Direct stop mechanism by an electromagnetic brake
Controller
Push and touch button(Arrange,stop,forward,brake,reverse)
Motor
Rush start motor
Motor power
1.5kw,1.8kw,2.2kw,2.7kw,3.2kw,3.7kw,4.5kw,5.4kw
Beating
Crank beating
Let off
system
Automatic mechanical and continuous let-off;Or electronic let-off,One or vertical two roll
warp beam
Φ800mm flange,Φ178mm barrel
Take up
system
Mechanical or electronic continuous take-up
Pick density
Normal:5-60picks/cm;Special:4-100picks/cm
Cloth wind-up diameter
Φ420mm,Φ520mm,Φ600mm
Shedding
Plain shedding
crank shedding(heald frame 2 to 8;1/1 fabric
Cam shedding
Cam shedding(heald frame 2 to 14);Plain,twill,satin babric
Dobby shedding
Positive/negative(heald frame 16 max.);Electronic and mechanical reading system;Plain,twill,sation or complex design
Jaquard
1408,2688,5120 lifting hooks;electronic jacquard device
Weft insertion
Measuring and storage
300#RDP type mechanical measuring turbo blower(single nozzle)Or electronic weft feeder(1-6nozzles)
Pump
M,L,H type, Single or Double
Plunger
Ceramic plunger;Φ32/Φ17,Φ32/Φ18,Φ32/Φ20,Φ36/Φ22,Φ36/Φ24,Φ36/Φ26,Φ39/Φ26,Φ39/Φ28,Φ39/Φ30,Φ50/Φ35
Nozzle needle
ST20/10;ST30/10;ST45/20,SD75/40
Weft filling
1/2/3/4/6 nozzle
Filling feeder
Electronic,optical,and self-control
Selvage/Leno system
Twisting by star,planetary gears
Electrical part
Madeinchina/import
Main control board,AC contactor,transformer,NC interface,Selvagebrake system,Waste yarn brake system,overheating and overload protection
Electronic meter
count and display,rotational speed,total yield,team yield,total efficiency,team efficiency,cloth length auto control,stopping analysis and display
Other devices
take up roller-one;weft density gear-one;Trashcan-one;nozzle needle-one set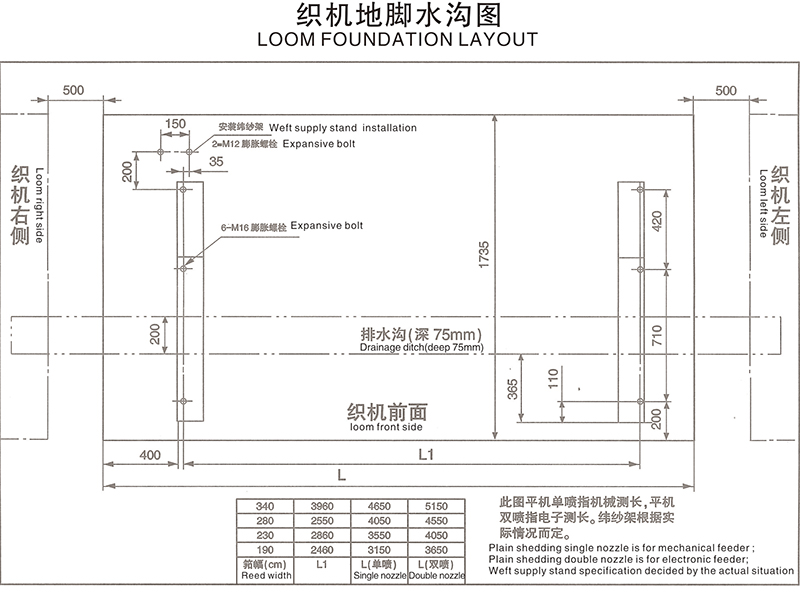 ---
Previous:
High speed 150-450cm 1-8 colors mechanical or electric feeder plain crank shedding/cam shedding/dobby shedding/jacquard shedding with single pump or twin pumps high speed water jet loom WT406H at 1000RPM for TPM weaving
Next:
WT8200 Heavy Thick Fabric Weaving Water Jet Loom With One Integrated Frame Wall Solid Offset-Rocking Shaft U type Nozzle 2-6 Colors ELO&ETU
---